November 25, 2021
A Shared Passion and Purpose for Teaching Options Trading is What Drives Theta Trading Founders: Omar Khan and Matthew Todman
Meeting Omar Khan and Matthew Todman you can't help but sense their long-standing passion for financial knowledge, complementary demeanors, and shared commitment to teaching people what they've learned with over 40 years of options trading experience.
LONG-TERM FRIENDS AND BUSINESS PARTNERS, OMAR AND MATTHEW MET AT THE UNIVERSITY OF TORONTO IN ONTARIO.
Despite both graduating from one of Canada's most prestigious university's with degrees in economics and finance, they lacked financial literacy and financial knowledge. The kind of practical knowledge they could actually apply to growing their knowledge and long-term wealth. In their words, university did not teach students how to take financial theory and apply it to generating personal wealth.
After graduating they went to work on Bay Street, Canada's financial epicenter. During their time there they became troubled by the conventional "wisdom" given to clients to build wealth.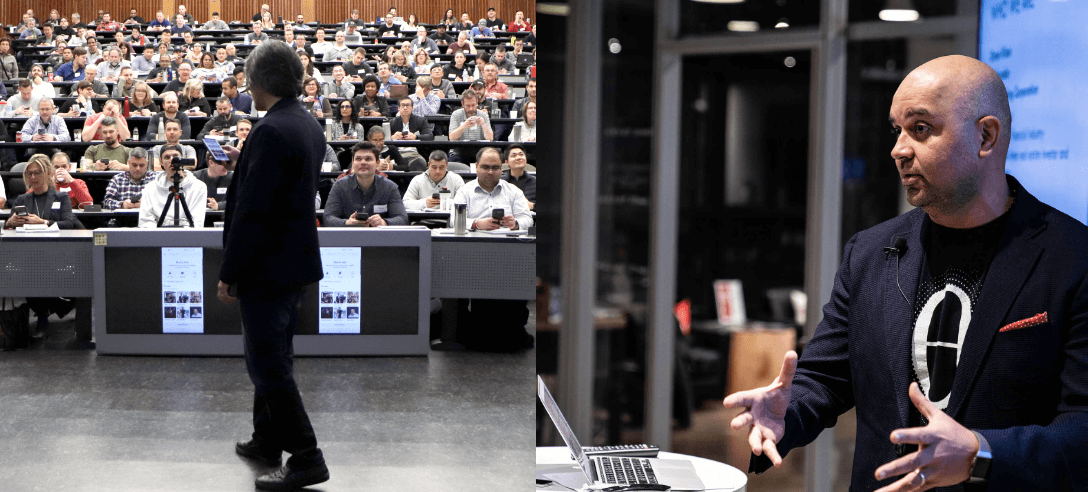 Questioning the Traditional Ways of Building Wealth
SOMETHING DID NOT ADD UP. OMAR AND MATTHEW HAD QUESTIONS.
They therefore began to question the investment industry that produced so many wealthy investment advisors and so few wealthy Canadians! Likewise they wondered why highly compensated industry experts failed to beat the market over 92% of the time. Above all, they questioned why more people couldn't access the same strategies and returns the wealthy advisors enjoyed.
And then they got to work doing something about it. Sharing what They Learned Along the Way
Sharing What They've Learned About Trading Options Along The Way
Omar and Matthew don't shy away from telling people about the options trading basic mistakes they made along the way. They believe their mistakes are gold they can mine and share with others.
According to Omar, Theta Trading was created to provide the options trading strategy and community that they wished existed back when they were just learning to trade.
Some of the most frequent questions Omar and Matthew get from people are: 'What are options?', 'What is options trading?', 'How does options trading work'? How can I learn options trading?' Omar and Matthew spent years developing the Theta Trading method of options trading. The options trading method they teach combines 40+ years knowledge and experience and presents it in a way that is easy for new traders to understand and act on.
99% of Theta Trading Stock Options Academy Introductory Students would recommend Theta Trading. 100% of Theta students said the course fully met their expectations.
Theta Trading Launched in 2019 with big plans to change financial literacy for people everywhere.
Theta Trading is On a Mission to Improve Financial Literacy
Moreover, they've taught over 1,300 students to trade options and they plan to continue to grow quickly and teach as many people as possible. 90% of new students tell Omar and Matthew they referred to Theta by a family member or a friend. Does this make Theta Trading the best place to learn options trading in Canada? USA? Globally. Many would say yes. To find out what exactly people are saying, visit Theta Trading's 5 star Google Reviews HERE.
Pivoting to virtual learning during the past year and a half, Omar and Matthew are looking forward to being back on stage and connecting with learners at live events in the future. But for now, they are grateful to be teaching people from all over Canada, USA and the world on their two-day live, virtual, Theta Trading Stock Options Academy Introductory Course.
MORE INFORMATION ABOUT THEIR COURSE AND TESTIMONIALS FROM STUDENTS CAN BE FOUND BY VISITING OUR WEBSITE, HERE